Post by yankoo on Jul 1, 2021 0:43:50 GMT -6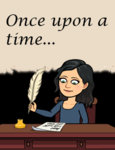 I scored you pretty low on technical and artistic, so I'd like to clarify. I love your writing style itself. That stream-of-consciousness sort of thinking really works for me. My issue wasn't that you used it, but just that it was all we got in the entry. We never left the character's head.
You honestly (and bravely) attempted several tough writing strategies all at once. Definite kudos for that. It's tough to do that style in first person because "I" becomes repetitive really, really fast. It's tough to accomplish a hook in 200 words. And it's tough to establish a strong character within their own mind. I feel like the problem with the entry (from the hook angle) is that you didn't give us any of the character's experience and observation. If you mix in some action and setting into what you have, maybe even some dialogue (talking to his/herself) it would shape up into a much stronger piece.
There were too many unknowns--who is "they" and who is "I?" Male? Female? Old? Young? We need a little piece of character development here to understand that. So you could do something like:
They think I am a god. They think I perform magic, like the wizards from their stories. With a flick of my wrist, I send their dreadful books tumbling off the shelves onto the library floor, setting off a massive dust cloud.
My thundering sneeze shakes the room.
And, they think it's their duty to cheer, gasp, tremble, kneel, bow, dance, and sing songs
; (remove)
only to please me. Another flick, and the shelves themselves come crashing down.
Bear with me LOL. I just threw your character into an old library. Made them destructively angry with severe allergies. Maybe you envisioned them in a different mood and setting. But we'd have no way of knowing that unless you put those bits in. So what you have itself is not so bad. It's just that the setting, character development, and suspense-driving action is missing. And those are essential components of a narrative hook.
Also, there were several grammatical errors that scored you lower on technical. Punctuation use (commas, colon, semicolon) and such. Keep an eye on the Resources forum because I'll be posting a bunch of threads explaining those grammatical rules that will help. Sometimes it's hard for regular critiquers to appreciate writing style when they spot a glaring misuse of a comma. We all admittedly tend to get a little tougher on that during contests. I think maybe the anonymity factor lets us be a little more truthful.
I hope you'll try again. Expand this out a bit and throw some of those elements into it and post in the fiction forum.
The cool part about writing is that one doesn';t have to follow a certain pattern. When i read something i like to know it's new, original, genuine, natural...i don't really care about commas. A comma is a pause in speech, right? So my character can make that pause whenever he feels like, for example as if he's thinking of the right next words he would use. I don't really know where i so evidently misused the comma.I get what you mean about the setting and not being very clear about who/what and where. I was hoping my hook would be the voice, not the action. All the rest would've followed.
Still, to give such low grades, i find it rude, as if saying "it's not even half-decent". And you know writers don't really like critics(btw). What is the purpose really? Maybe you don't like it, but others do. Maybe you don't understand it, but others definitely do. Doesn't mean you have to say it's crap. Luckily for me i'm not easily affected. All the best!