Post by Caulder Melhaire on Mar 18, 2023 11:29:36 GMT -6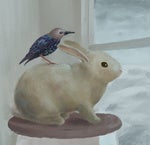 ...
This all makes me so uncomfortable. First I pride myself on writing weird stories. I don't want that to be devalued in the long run if people assume my unconventional ideas came from AI and not from my own very individual experiences, psychology, and creativity. People come up with the stories they do for very human reasons, even when they seem arbitrary. And then, a bunch of algorithms trained to respond to what you say based on patterns isn't your 'friend.'
...
Also from what I understand of the thread, I don't think anyone's saying technology is unquestionably good or that it's anywhere near a good thing that writing machines are replacing human writers. People are just disagreeing over whether writers should put up a stand or make the best of it. I just don't like seeing you guys get heated when you predominantly have the same values!
That's also part of what irks me, is like... the stories we pride ourselves on writing can potentially get snagged by these programmers and used as training pieces. Every magazine I submit to has previews if not full-length samples of the writing they publish. I can think of at least two ways to quickly and invisibly rip that data right off the top of my head. In fact, I demonstrated one of them in my seminar capstone. So I feel you there, it sucks to think that a style born from your own experiences and individualism could possibly be easily replicated and made commonplace.
Fascinating article, by the way! Some good points in there to make me revalue my argument, though I think I'm still falling on largely the same side. Also sums up some of the concerns I have regarding this topic, especially the frameworks part, given how prominent similar tools are becoming these days and how little heed we tend to pay to those impacts when it comes to automated technology.
I just really hate that we have to consider taking a stand in the first place. Like if society were set up to keep people taken care of and make sure they get the basics, I probably wouldn't hate this so much. Because I'd say "who cares if a chatbot can do/simplify what we do, it's not people's source of income, their livelihood." We'd be doing it to share the human experience, not put food on the table. But alas.