Post by RAVENEYE on May 6, 2021 9:55:45 GMT -6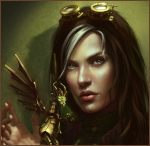 I gotta step in...
I can understand this beef. I hear you. Definitely.
However...Brandon Sanderson did not invent this ending. He has ALL the extensive notes from Jordan and worked closely with his wife, Harriet. Jordan knew exactly how he wanted the series to end. Sanderson actually talks about this on his podcast Writing Excuses. There were some *minor* character choices/traits he was allowed to change but even tiny details were outlined in Jordan's notes, like the slap between a male character and a female character that Sanderson HATED writing but did so because Jordan was adamant it had to happen. Sanderson also got to speak with and meet with Jordan before he passed away to hammer out details.
SO...don't blame Sanderson.
ALSO, the end of the series is EPIC in so many ways please don't let this one thing discourage you from the entire series. PLEAAASE.
(Also Rand chooses to travel the land in his new body because as the Dragon Reborn he was literally kept in palaces the entire time since everyone and their mother wanted him dead. He couldn't go anywhere or do anything without being recognized. It was so much pressure all the time and he was barely 20 years old. Not to mention the growing madness thanks to the taint on the one power, which he can now use freely. So he wants to experience life in a simple easy unnoticed way. He doesn't want to be this magical being to everyone, so he'll only use his power for small things at the moment. Personally, I was certain he'd eventually come out to his father but for now...he'd finally do something for HIM. The entire 12 (13??) book series is about how he's The Chosen One and must sacrifice himself to the greater good and how nothing he wanted mattered. So I don't blame him at all for taking a little "me time".)
Oooo! Okay, I like this tennis match between takes on the book. Now I'm really curious to know what conclusion I'd draw. Considering adding the series to me wish list.
And at least this series is FINISHED, for goodness sake. *coughMARTIN* *coughROTHFUSS* *coughRAWN*